Artists: Father John Misty
Album: Fear Fun
Label: Sub Pop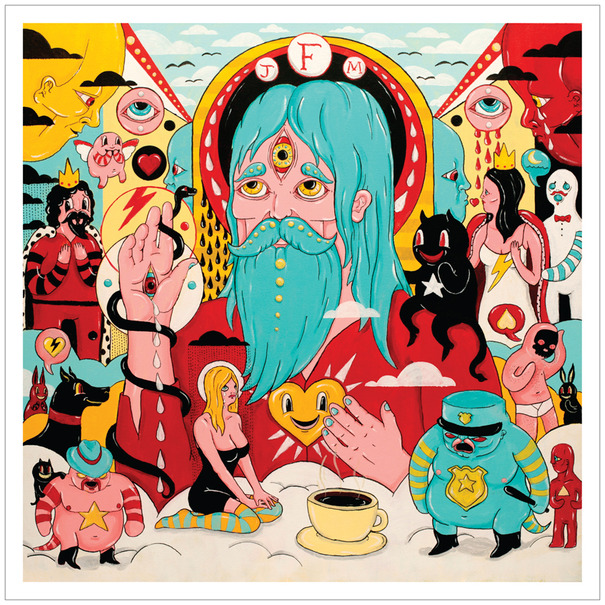 J Tillman loves him some country rock. If that wasn't obvious enough from his time in Fleet Foxes, a band that almost single-handedly brought the genre back from the bland acoustic hell to which it had so completely been relegated, then the music spread so effortlessly across his first solo album Fear Fun can attest to his affinity for all things Gram Parsons. It's not like other musicians haven't mined this particular vein of music before, but few have done it so well, excluding his previous band, and managed to come off sounding like they were truly inspired and not merely treading in the steps of better musicians. It's a hard task to pull off but Tillman seemingly does it with ease. I'm sure that's due in no small part to the influence and active participation he had in Fleet Foxes, and he brings that communal sense of play to his first record as Father John Misty.
 Fear Fun allows Tillman the opportunity to delve into somewhat darker material than what was found on his previous albums. With lyrics like "Ride around the wreckage on a horse knee-deep in blood/Look out Hollywood here I come" from opener "Funtimes In Babylon", Tillman makes it clear that we're treading different territory this time around.  I also can't shake the feeling that Tillman sounds a hell of a lot like Roy Orbison on this song.  Maybe it's just the vocal nuances of how he sings on this particular track but I know it's there.  In terms of sound, we go from the intimate campfire feel of the opening track to the obvious Parsons and Neil Young influenced country shuffle "Everyman Needs A Companion", with its handclaps and gentle electronics, and further on to the gently elegiac "O I Long To Feel Your Arms Around Me", a beautifully mournful song detailing the need for love's ache. Whether these songs feel stripped down ("Now I'm Learning to Love the War") or built up with a broad range of instrumentation (the strangely joyous "Only Son of the Ladiesman"), Fear Fun feels loose and darkly comic.  And through it all, there is a restless creativity that spurs these songs on.
 If you know the back story of this album and know anything about the effect of the canonical Laurel Canyon area in California on those who wander through it, then the stylized country/folk ruckus Tillman cultivates across these 12 tracks makes perfect sense.  Perhaps best exemplified on "Misty's Nightmares 1 & 2", this sense of nature and space allows the song to expand and contract, the multi-tracked vocals easing along in time with the casual beat and trembling slide guitar.  It's a song that wouldn't feel out of place on Crosby, Stills, & Nash or Buffalo Springfield Again.  
 Tillman has created an album of songs which pay respect to his influences and surroundings, without sounding buried by them.  Like the best country/folk music, these songs seem familiar.  The acoustic guitar, shuffling beats, and gorgeous melodies all point toward Tillman being well aware of the history of what he is trying to recreate and being pushed forward by it.  He knows that without the intent and knowingness of its own lineage, this music would feel stale and overblown. On Fear Fun, Tillman lets us in on his own kaledescopic view and wants us to be just as amazed by it as he is.  And to be honest, with an album as diverse and creatively engaging as this one, it's not that difficult to see things his way.
Rating:
written by Joshua Pickard